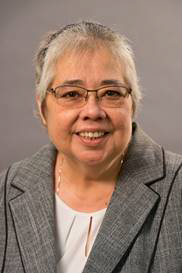 Julianna R. Shane
It is with Great Sadness, that we are reporting the passing of our beloved friend, co-worker and longtime Board of Director, Julianna, Julie Shane. We have worried about her for many months, and we tried to carry on with the TDX work she so loved, and had expected us to all continue to do as she done all these many years. Julie was the Spirit and Sole of TDX, Caring for every living Aleut. She was the first to stand up and voice support and care for our Shareholders, no matter where they lived. She not only defended and supported our Aleut Culture, she practiced our Aleut Culture, and taught and shared it with all she could. St. Paul Island was always dear to heart! One of her last wishes, she wanted all to know; was she wanted to go Home, to be laid to rest at home, and more so to be with her sweet heart, her love of her life, her Husband Walter who preceded her to be at our Lords side.
Julie was one of the most active hard working TDX Board Members, serving over 25 years as an active Board of Director, and serving on many TDX Subsidiary companies. Julie understood business decision making, and was proactive in promoting TDX and the Aleuts in many meeting with many key leaders around the State of Alaska and in D.C. The Governors of Alaska knew her by first name. She was known and loved by Senator Ted Stevens, and Congressman Don Young. Later Julie got to know Senator Lisa Murkowski and Senator Sullivan. They would all greet her at the front door with a Big Hug. Julie was a go getter, she jumped right into the mix of things; she was well known and respected at AFN, the Aleut Corporation, APIA, CBSFA, City and Tribe of St Paul, and at the Alaska Native Village Corporation Association. She was TDX!
Julie started her work at TDX at a young rage of 15 years old, she worked hard long hours, and got the job done and more. By the time she was 16 years old, she was promoted to the manager of the TDX St Paul King Eider Restaurant. Julie worked at TDX almost all her life, except when we asked her to take on the job as the Plant Manager for the first Crab processing plant on St Paul, that was owned by our new partner from Japan, Scott Sasaki. Through Scott and Julie's efforts, the new Unipak Crab plant rose to be the biggest producing crab plant in Alaska. The Unipak plant was later sold to Trident, and Julie helped to make the transition to the new owners. Julie came back to TDX to serve as the St. Paul BSE General Manager, to ensure NOAA cleaned up our TDX St Paul lands to fullest extent possible. Then later she ultimately severed as the TDX Director of Shareholder Affairs till her passing. She took on this responsibility and duty, with more vigor and spunk then anything she had ever done. She was driven to support and care for all our Shareholders, no matter where they lived. She would always defend and support our Aleut people and Culture, she made it a point to practice our Aleut Culture 7 days a week, 24 hours a day, and she shared this Aleut knowledge and skills with all she could.
We all knew her day was coming, but never really wanted to believe it. We all worked on, with a heavy sad heart, as we saw that the day was near to the final day when she would be leaving us all. She told us in her own way, with a little smile; "I am ready to go Home! I am Ready to be by my husband's side". Julie has been in the fight of life for almost 2 years, and early in morning she passed away, with her daughter, Martha at her side. We Love and will miss Julie, but we know she is in a better place, with no pain and no more suffering at our Lords side and back with her Husband, Walter.
---
May Her Memory be Eternal!
Julianna R Shane (1963-2018)
Julianna Ruth Shane, 54, passed away peacefully at her home in Anchorage, on Wednesday February 14, 2018. She was with her loved ones. A service will be held in Anchorage, Alaska at St Innocent Russian Orthodox Cathedral, 401 Turpin St., on Saturday February 17 at 2:00pm, with a viewing beginning at 1:00pm. A tea party will follow the service at the Coast International Inn, at about 3:30pm. Julie's family will take her to her hometown of St Paul Island, where she wanted to be laid to rest, on Sunday February 18. A Panikhida will be held in St. Paul Sunday evening following their arrival on the island. Her funeral service will be held at the St Peter and Paul Church in St Paul on Monday, February 19 at 1:00pm with burial and a tea party to follow.
Julie was born in Anchorage, Alaska on December 31, 1963. She lived most of her life on St Paul Island and in Anchorage, Alaska with some background in the Matsu Valley and in Guam. Julie was a loving leader, who served on the Tanadgusix Corporation board since 1986. In her spare time, she was devoted to teaching Unangan history and culture. She also enjoyed baking, and was known to make wedding cakes for many of her family and friends. She had a hug and a smile for everyone, her joking, no nonsense approach to life will be missed by everyone who knew her.
In May of 2017, the Tanadgusix Corporation Board of Directors honored Julie with a resolution titled "In recognition and profound appreciation of distinguished service by Julianna Ruth Shane." The Board also voted to name the Tanadgusix Corporation museum on St Paul Island after her, in perpetual recognition of her tireless commitment to the Unangan people and to the sustainment of the Unangan culture and heritage. May her memory be eternal!
Julie was preceded in death by her husband, the love of her life, Walter Shane; and her parents, Nicolai Melovidov and Mary Shaisnikoff. She is survived by her daughter, Martha Shane; siblings: Samuel Melovidov (and wife Sarah), Nadesda Douglas, Platonida Kashatok (and husband Charles), Rebecca Philemonoff, Rena Kudrin (and husband Alex), Nicolai Melovidov, Benjamin Leon Guerrero (and wife Silvia), Juan Leon Guerrero (and wife Cara), Tina Woods (and husband Daniel), Angela Kochutin; her godchildren: Curtis Melovidov, Victor and Luke Malavansky, Jasmine Wilson and Hunter Woods; and many, many nieces, nephews, cousins and in-laws.
In lieu of flowers, the family has requested that donations be made to one of Julie's passions in life, the TDX Foundation Scholarship program.
Ron Philemonoff, CEO
Please share your cherished pictures and memories of Julie here.